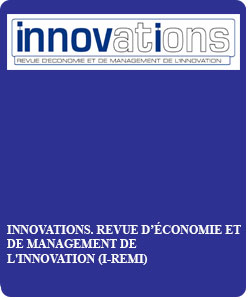 Innovations. Revue d'Economie et de Management de l'Innovation (I-REMI)

Innovations is an academic review which presents in priority articles in economics (innovation, industrial, international, labour economics).
This review also accepts contributions from other academic fields such as law, management, political science,… when analyzing the origins and implications of economic and social innovations.
Innovations wants to be a forum where economy and society evolutions are debated, while confronting theoretical analyses and empirical experiences.
Technical change, entrepreneurs' action, firm strategies, social relationships and conflicts, economic policies, etc. lead to many interrogations and articles are selected by Innovations editorial and scientific committee because they contribute to the debate by offering… innovative analyses!
Innovations. Revue d'Economie et de Management de l'Innovation (I-REMI) is published by De Boeck (Brussells). It is also available on CAIRN
More information: OURS
The Journal is indexed in the AERES (French Evaluation Agency for Research and Higer Education), the CNRS (French National Center for Scientific Research), the FNEGE (French National Fondation for Management Education) and EconLit
To submit a paper (in French) to Innovations. Revue d'Economie et de Management de l'Innovation: https://www.editorialmanager.com/innovations/
Guideline for authors: https://www.cairn.info/docs/Instructions_for_authorsGB110816.pdf
Appels à communication ouverts
Content of the issues available on Cairn:
N 54 : Changement climatique. Potentiel d'innovations
N 53 : Horizon Développement ! Créativité et Innovation
N 52 : Techno-sciences en société
N 50 : Structures industrielles, stratégies d'entreprise et innovation
N 49 : Modèles collaboratifs d'innovation
N 48 : La créativité entrepreneuriale
N 47 : Capital intellectuel et management de l'innovation
N 46 : Politiques d'innovation durable
N 45 : Jean-Baptiste Say et la libération des forces de production
N 44 : Territoires de l'entrepreneuriat innovant
N 43 : L'innovation sectorielle, Reconfiguration des mésosystèmes
N 42 : Fondements économiques et industriels de la Défense 
N 41 : Luxe et innovations. Nouvelles perspectives économiques
N 40 :  Le Risque. Anticipation et Innovation.
N 39 : Open innovation. Cooperation, collaboration, coordination.
To submit a paper (in French) to Innovations. Revue d'Economie et de Management de l'Innovation (I-REMI) : https://www.editorialmanager.com/innovations/

Direction
Directeur de la publication / Director : Dimitri UZUNIDIS
Rédactrices en chef / Editors in chief : Blandine LAPERCHE et Sophie MIGNON
Rédacteurs / Associate editors : Céline MERLIN, Stephen BONES, Jerry COURVISANOS, Sophie REBOUD, Corinne TANGUY
Administration technique / Technical administration : Tiphaine JAHIER
Secrétariat de rédaction / Journal secretary : Julia COOPER, Hammady Ahmed DINE RABEH, Claude FOURNIER, Serge LE ROUX, Zeting LIU, Nathalie LIVOURY, Maria LOREK
Réseau de Recherche sur l'Innovation
39, rue Gaspard NEUTS
59240 Dunkerque, France
rri@univ-littoral.fr
COMITÉ DE RÉDACTION / EDITORIAL STAFF
Nadine LEVRATTO (coord.), Pierre BARBAROUX, Sophie BOUTILLIER, Thierry BURGER-HELMCHEN, Marc-Hubert DEPRET, Faridah DJELLAL, Alexander EBNER, Joëlle FOREST, Delphine GALLAUD, Gilles GAREL, Benoît GODIN, Anne GRATACAP, Luiza Maria HENRIQUES, Laure MOREL, Francis MUNIER, Fabienne PICARD, Maria SAVONA, Francesco SCHIAVONE, Ludovic TEMPLE, Leïla TEMRI, Elisabeth WALLISER
Comité de Rédaction / Comité Scientifique et Editorial

Laboratoire de Recherche sur l'Industrie et l'Innovation
Université du Littoral Côte d'Opale
21, quai de la Citadelle
BP 5528
59383 DUNKERQUE Cedex 1
(France)
labrii@univ-littoral.fr
phones : +33(0)3 28 23 71 34 / + 33(0)3 28 23 71 47
New: Find Innovations on REPEC